(Photo by Spencer Platt/Getty Images)
Kidnap. Rape. Torture. Survival kits. Bombs.
But these words, these realities, are part of daily discourse for champion jockey Craig Williams and his Ukrainian-born wife Larysa as they prepare for their second mission to deliver important aid, firsthand, to Ukrainian's suffering under the Russian invasion.
Larysa Williams' parents remain in Ukraine. They are safe, she says, but they are being bombed.
The Williams' have children of their own and it is the tragic plight of literally millions of Ukrainian children that angers them the most and has driven them to act.
Speaking on Racing Pulse this on the cusp of their second aid mission to the Ukraine, Larysa spoke of the terrible fate of so many Ukrainian children.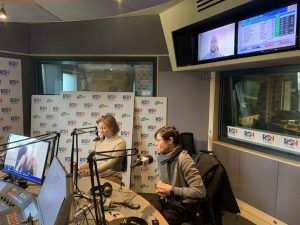 She said over 200,000 had been kidnapped by Russian soldiers. Four million had been displaced. "The whole of Australia has three million children," she said. "Most of them (the Ukrainian children) don't have homes to come back to and that's what hurts most."
Children who were unable to escape the invading Russians fared the worst.
Larysa said the volume of kids who had been raped and tortured was staggering. "One doctor said he had never seen anything like it," she said.
"These children are not just broken, they are silent. They are not talking. When they decide to talk, it could be years."
Larysa said about 20 per cent of Ukraine had been seized by the Russians "but they are not just getting the land they are getting the people."
The first mercy mission, a team effort that including Craig and Larysa Williams and a handful of others, deposited four suitcases comprising 92 trauma kits to Ukrainians who had fled to the Polish border.
That was a month ago.
About $30,000 was raised via donations – mostly from the racing industry – for the first mission. This time around, $300,000 has been raised.
"We have been overwhelmed by support from people in the racing industry and generally in Australia. You saw what we could do with $30,000," Craig said.
In coming weeks, the Williams' will be accompanied back to the Poland/Ukraine border by former top jockey Chris Symons, who will film the delivery of trauma and survival kits.
Cars have been purchased in Poland to be re-purposed as ambulances. As well as trauma and survival kits there will be compression needles, ear and eye protectors and even drones to assist the Ukrainian army.
Listen to Craig and Larysa Williams full interview below
ARTICLE- RSN927.